Before Going to install Kodi on Firestick TV we have to know more about it. Actually, Amazon Fire Stick TV resembles the flash drive. It is a handy device to stream video contents like Netflix.
You have proper internet or Wifi connection to cast all videos to plugged-in on HDMI port on your TV. One of the amazing device to stream any HD Channel. Just think of might viewing the content provided by the Kodi Firestick. Today, I'm going to provide a complete tutorial about Kodi to Firestick.
Most would opt for PC to install stream Kodi to Firestick. Some Systems are not ready for Kodi installation process. Even No PC require installing Kodi for Firestick. We are sharing the best method to install Kodi for Firestick TV. For better understand to load Kodi to Firestick without any PC. Scratch until end below to get step by step process.
How to load Kodi on Firestick TV No need PC / Computer
Firstly, Turn on the TV Powered by Firestick handy Device. Open the Settings tab. Settings tab located on the left bottom of the screen. Click on the settings tab. It shows the multiple options like Audio, Display settings. In that select the "Systems Settings" last option.
Next, You need to select Developer Option. Make sure to check them in the state.

ADB Debugging & Apps from Unknown Sources.

If not click on Both options.
Once finished the above process. search ES File Explorer in the Search bar. Click on it to download Es File Explorer. You got this install the ES file Explorer package.
Open the ES file Explorer You can see the "+" on the screen. Press on the symbol asks to add a new page. now, fill the path and name.
In that Field Type Pathname as it is https://kodi.tv and Name is your choice.
After clicking the OK button. It automatically redirects the Home page of Kodi Website.
You need to Download the Android version file of Kodi. Fire OS version is not available.
Click on the ARM link in few seconds start download automatically.
Whenever finished the downloading the Android File of Kodi it shows the dialog box. Press on Open Folder or Open File as per user choice.
Click on the Open file option. And then it shows "Install button". Press on install Button. It takes another page to cancel or install buttons appears on the screen. Now, click on Install Option.
After installing the Kodi APK. Just Open it will redirect the current version of Kodi app.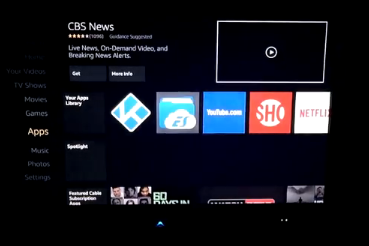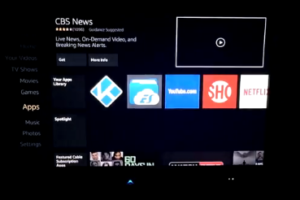 Yes, You got installed Kodi app on Amazon Firestick TV.
Also Read: step by step guide to Install Kodi app on Chromecast using Laptop/Desktop.