Ultra tt addon is one of the famous builds for Kodi. It occupies the low memory on your devices.  Light build for Kodi and used with ease on any system. Ultra TT build contains many add-ons.
Very fine to install on PC. All the computers and Smart TV well support to set up their own. Recommended build to install on low RAM capacity or fewer memory devices. Kodi Build Ultra TT seems to be very fast and lightweight. It organizes very easily. In this article, we are providing the fair knowledge on How to install Ultra TT Build Kodi addon on Windows PC.
ULTRA TT Build Kodi addon Requirements
While you are using Kodi Stream must know the VPN Usage. It helps to preserve the Anonymity acts from the online. And also protect from the Spying ISPs from anywhere.  I personally recommend using IPVanish VPN on your systems. It supports to access on multiple devices for all Kodi addons. In a complete scale, this will provide more privacy.
Step by step Guide to install Ultra TT build on Kodi with PC
Cleaning all the date on Kodi software before installing any Build or Wizard. This may help to get any errors during the installation process of any Wizard/Build. So, clear out any data on Kodi TV.
Open the already installed application Kodi app on your Computer.
After opening the Kodi App on your PC or laptop hit on the "System Tab".
In the System Tab, you should see more options like System info, File manager, settings,  profiles, and Events. Just go to the "File manager".
In the File manager Screen, we will see "Add Source".
Tap on the Add source another screen shows to add Path and Name of the file source.
In the Path Field, you have to enter -> http://toptutorials.co.uk/kodi
Name Field is your choice type as per user convenient.
Next, Go to the Settings option to select Systems Tab. In that, Click on "Add-ons" Tab.
Once clicked on "My Add-ons"  install from the repository navigate to "Install from Zip File".
By just clicking on the "Install from Zip file" In that, open a new pop up menu contains multiple tabs. It contains more drives click on the name you created or added before.
When you have to open that file It shows Builds, Add-ons, Repos, and Fresh start options. You have to select "Builds" on the list bar.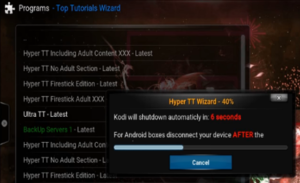 Suppose you love to watch movies on Firestick then Download Kodi app on Firestick.
On the Builds option, you see two zip files named as "plugin.video.hyper1.0.2.zip" and "plugin.program.ttwizard.zip". Click on the "plugin.program.ttwizard.zip" You can see pop up message go the settings and select "Programs" on the Home Screen. Select the added name on the second step open the folder. The folder contains a number of lists in that you have to click on "ULTRA TT – Latest". It starts the automatic download for the latest file of ULTRA TT Build. After downloading finishes systems shut down automatically. Restart your device go to the Kodi home Page open ULTRA TT Build.
Also Read: Simple steps to install Kodi on Chromecast Click Here.